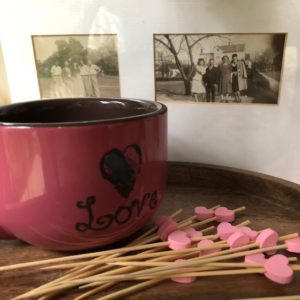 It's summertime and it's someone's birthday in the family. I can see Babci walking to the backyard garden. She always wore a cotton dress, long and loose, covered with an apron. I'm thinking about my grandmothers today as a get ready for another Art After Hours at the galley. Valentine's day is just around the corner, and I thought a pink theme would be fun for the refreshments I'll serve. "Babci" (pronounced bob-chi) is Polish for grandmother, and she lived next door to us. She made beet soup — nothing I would have eaten as a child even though it was the prettiest color pink. There was just something about beets that did not excite this little granddaughter.
The excitement came with MomMom's strawberry sheet cake. MomMom was my dad's mother. Babci was my mom's. Anyway, MomMom was famous for bringing that cake to everyone's birthday party, probably because it fed a crowd, and it was always a hit with everyone in my rather large Catholic family.
I've never tried to make that strawberry sheet cake nor borscht, but I thought both would be the perfect color for my pink party tonight. Both have passed the taste test with flying shades of rose, and there will be many other pretty things presented for the palate.
This morning, as I continue with the chopping, mixing, rolling, poking and plating in preparation for the gallery gathering, I am reminiscing about my wonderful grandmothers, who added that happy color to my life — it's the color of love, and I hope you can join me this evening to share in art . . . in love . . . and in life.