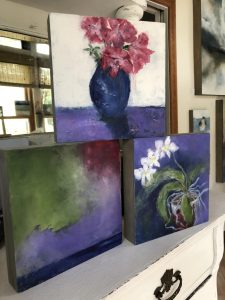 My art life has been one of solitude since the pandemic abruptly shifted so much of my perspective, interests and focus. I have stayed grounded in the white sand, aqua waters and blue skies. But this past weekend, I ventured to the quiet side of the panhandle and rediscovered the forgotten coast. Apalachicola and Mexico Beach were a wonderful diversion from the fast-paced spring break happenings around me. Time moves slower and stress melts away under the afternoon sun.
Back home, I've taken up walking the neighborhood everyday, listening to children's laughter and meeting up with nearby residents managing their day-to-day operations with a little help from their friends. Between one and two miles on foot affords a new way of looking at things, too.
So back at the studio, I dug through a forgotten trove of oil paints, colors that dared me to open their tubes and experiment. These small paintings are the first of many, I hope, that serve to open new possibilities and create new adventures, escaping from the norms and daring to walk where I was scared to go before. My eyes are sensitive to bright lights and my soul too sensitive to bright colors. This is a start. I hope you continue to follow along on this wild journey with me, remembering to explore the unknown and allow yourself room to run or walk, eyes wide open, to all the new possibilities of the day.
Lori