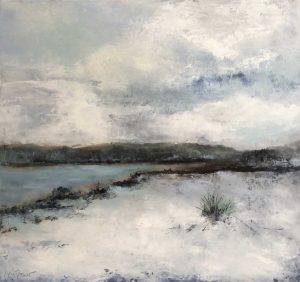 Last week was a bonus week . . . I was gifted with a full week in the studio . . . practicing, playing and picking up the pieces of paintings left unfinished. In other words, although there were struggles, there were also some successes and I found myself feeling good about a couple of things I wanted to share with you.
The first was an exercise in freedom. It's harder than you think. No planning allowed, only a will to lay color to the surface and keep going until you feel satisfied. The big idea behind this exercise was to be oblivious to the applause of others. Over the years, I have somewhat grown in confidence because of time spent practicing the process, and although I still seek approval, I am happy if I can look at the finished work and smile, at least a little, knowing I did my best and that I would happily hang it on my wall. But please don't stop the 'likes.' I'll be devastated.
The second thing I learned last week came after a conversation with a dear friend who wanted to know why I don't have the ability to make purchases on my website. Without even thinking about this in depth question, I said, "because I want to meet the people who like my work." So far, I really like everyone who likes my art. It's crazy, but I don't want to give that up by including a shopping cart and digital checkout. I want to get to know you, maybe meet your family, share a few bites or a glass of wine and hear what you love about my art. It feeds my soul and gives me the courage to continue.
So I guess what I'm saying is that I need you. I enjoyed the quiet studio time striving for freedom from fear. But we need each other in this journey of life, and art enhances it.
I hope I'll see you at the studio someday soon. In the meantime, enjoy the new additions to my website. No cart, but lots of heart!